Here is my review of the American Idols Live tour in Las Vegas on July 5th. I traveled from Denver just to see the show, and a little vacation with my husband as well. Its been a few days since the show and here is my account to the best of my abilities of my experience. Hope you all enjoy!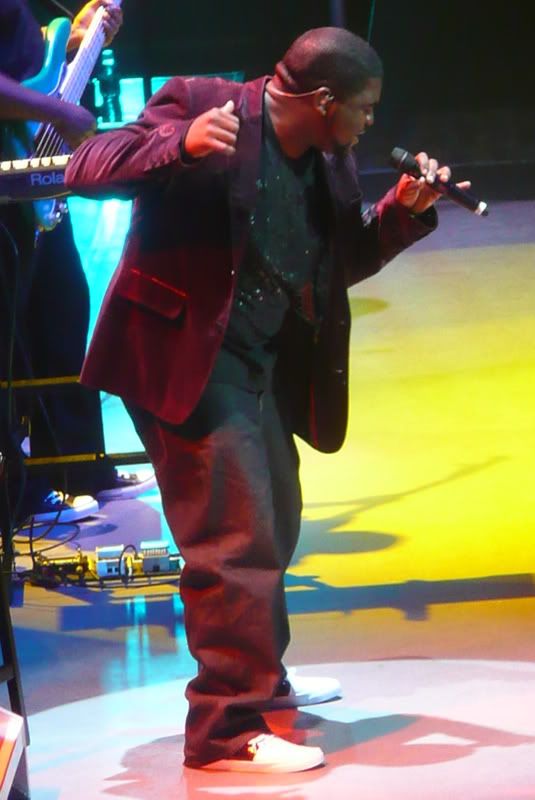 I'll admit that I had preconceived notions about what going to an American Idol concert would be like. I imagined hundreds of screaming tweens with their glitter shirts and giant signs making it impossible to see or hear the concert. My experience was almost the exact opposite of what I was expecting. The demographic in attendance was just about what you'd expect during an evening at the ballpark. There were some families with teens and younger children but a lot more couples and groups of ladies of many different ages. The people I met and talked to were some of the nicest people I've ever met and it was so much fun to share the experience with them. I had a great time at the show and I am encouraging anyone who has the ability to attend to go see this show.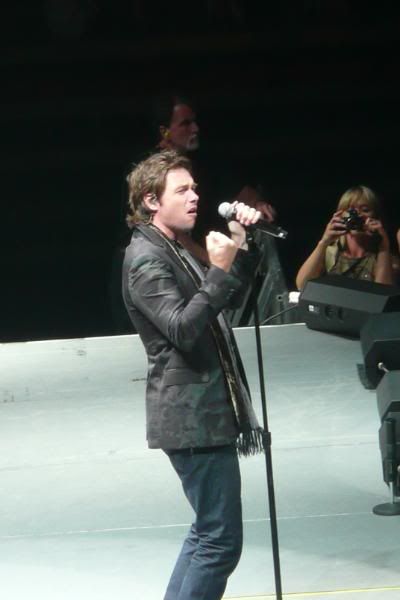 I arrived about one hour before show time at the Thomas and Mack arena. The doors were not open yet but they had everyone stand in a group off to one of the side entrances. I have no idea why we were not allowed to use the main entrance but getting in the building was easy enough once we were allowed to. I found my program, drink and seat fairly easily and settled in for show time. My seat was about 20 rows up from extreme stage right but fairly close to the action. I apologize in advance for most of the photos being a side view of everyone but this was pretty much what I had to work with. The arena filled up entirely on the lower section and the floor areas. The upper sections were only filled on the front and center parts but I'd estimate the crowd was at least 10,000. The lights were very dim with many previous Idols' music was playing on the big screens including Carrie, Jordin, Daughtry and Blake. The longest video had to be covering Blake and the making of his album. Then the screen showed David Cook's Disney World commercial and the crowd loudly approved. We also got to see both Davids' famous Guitar Hero commercials with loud applause as well.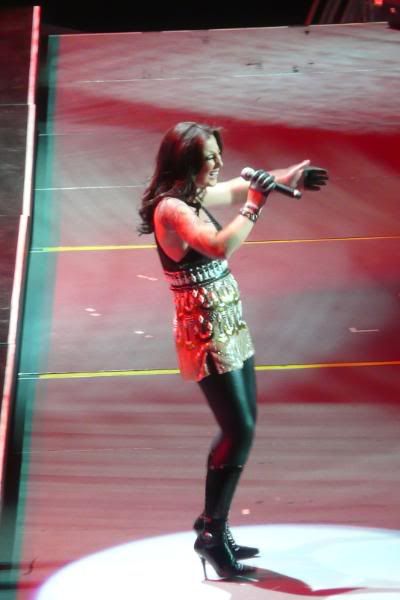 The show kicked off great with Chikezie who got the crowd pumped up with a couple upbeat numbers. Ramiele was next with some fun dance numbers. I actually liked her slower song the best because her voice got a little lost on the louder songs. She worked the stage well in her giant stilettos. Michael got a very large reception from the crowd and his
Dream On
was one of my favorites of the night, which the crowd seemed to agree. Michael mentioned that Randy Jackson didn't like that song but it was one of his favorites. I liked the song a lot and still don't know why he got so much criticism for it. I'm not a fan of country music at all but Kristy Lee put on quite a show. She worked every area of the stage with great energy. Carly was one of my favorite performers of the night, I really enjoyed all 3 of her songs and she did great with the crowd banter. Carly said she had been dreaming of performing in Vegas her whole life and thanked the crowd for supporting them so they were not losers anymore. Brooke was the final performer in for the first half of the show rising to the stage on the piano sounding gorgeous. She also went through her entire set barefoot and then stopped on the side of the stage to put her shoes on for the first half ending group sing. Chikezie kicked of the song
Pride
followed by all 4 ladies and then Micheal closed out the number.
Half time was mostly for the sponsors Pop Tarts and Guitar Hero to peddle their products. We were treated to seeing both Davids' Guitar Hero commercial two more times and the 70s inspired group group Guitar Hero commericals. There was a Guitar Hero contest between two guys from the crowd and cute 10 year old boy from Toronto who played the air guitar.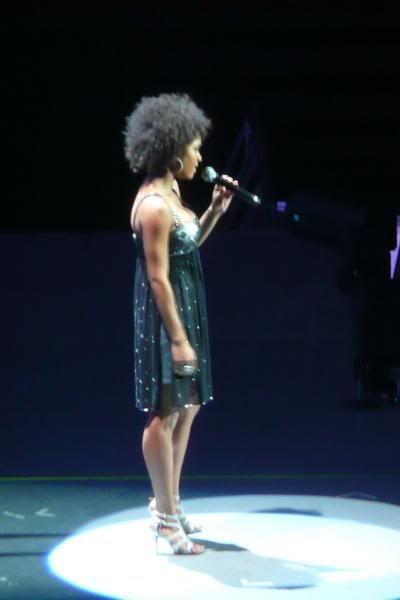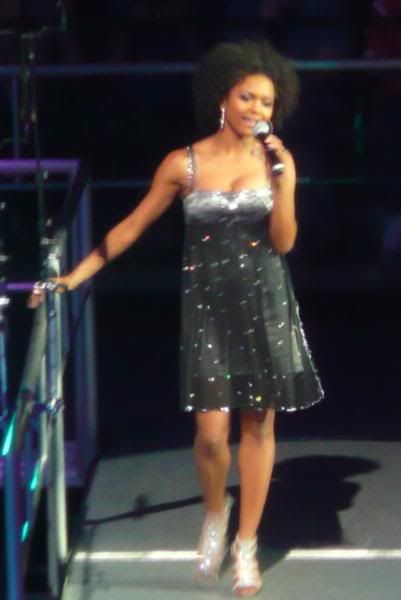 Jason kicked off the second half and he delivered my favorite performance of the night, save for David Cook. I wasn't a very big Jason fan when he was on Idol but his rendition of
Crazy
was well worth the price of admission. Jason's set seemed the shortest for some reason but was all enjoyable. The type of music Seyesha sang is not my style at all her set was nice as her voice carried over the very loud band. David Archuleta had a grand piano entrance from under the stage with smoke flowing behind him. This was the only time the tweens let themselves be known as a noticeably higher pitched scream followed David's introduction. My favorite song of his that night was
Angels
and the touch with the piano was very nice. David put on a very nice performance and I could tell he puts his whole heart into the song. David Cook was spotted behind stage sitting down and watching at the very beginning of David Archuleta's set. A few fans on my side of the area noticed and let out a scream. From where I was sitting it looked like David Cook pointed to the other David as to let the crowd know who they should be paying attention to.
Now for the grand finale of the night David Cook finally made his entrance from under the stage and sang
Hello
. It was incredible to finally see the man in person working his magic. David's voice is every bit as good and even better than I imagined.
Before Time of My Life
David told the crowd that he was going to sing extra hard that night to earn his paycheck since he lost so much money the night before at an unnamed casino. During
I Don't Want to Miss a Thing
, David really worked the crowd, making everyone in the arena feel like they experienced him. He walked all the way over to both wings of the stage and the crowd went nuts. Before
My Hero
David filmed the crowd and commented that the crowd was shaking his camera. I can't wait to see what that video and all the crowd shots look like from his perspective. Finally the encore happened and David performed
Billie Jean
on the front center stage with the smoke treatment under a red light. It was easily the best performance of the night for me and David recreated his "moment" from American Idol right there in front of me. I couldn't cheer or scream at all because I was completely mesmerized.
The show was over far too soon when the group number closed the show. Each Idol came out in the order they were eliminated to sing one part of a verse from
Please Don't Stop the Music
. It was a great upbeat way to end the show as the crowd began to pour out of the arena. The back part of the stage was visible from my section of the arena and some fans screamed when they saw the Idols walk back stage waving at the crowd.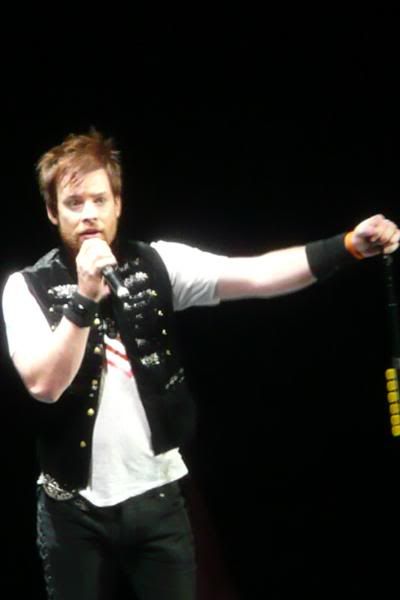 After a great night of music I was prepared to leave with some great memories but I kept having this feeling tug at me that if I came all this way just to see the show that I should at least try to meet the Idols. Reading the various reports on the internet I knew that there was a chance the Idols would come out after the show on their way to the tour buses but no reports had come out of anyone actually meeting the Idols this way except those where were waiting hours before the show. I'd feared I'd missed out on my only opportunity but decided to see what I could find. To my surprise the tour buses were in plain sight just to the right of the main entrance. There was a gate already there with people lined up. I decided to stand behind a few of the shorter people and see what happened. I stood there less than 15 minutes and then heard a shriek from someone at the front of the line and someone yelled "Its Kristy Lee!" as she walked over to the top part of the line. I couldn't believe it, the Idols were actually going come see us! Then about another 15 minutes passed as Carly and Michael joined the line. All 3 of them took great time meeting everyone, taking photos and giving autographs. I told Michael that I loved his
Dream On
performance and he was really appreciative to be complimented on it. After another 15 minutes most of the other Idols started making their way down the line starting either from the top or bottom and signaled from a shriek at either end, this time they were moving a bit faster but still accommodated everyone who was there. I was surprised there were so few people waiting out there because the buses were in plain sight and it had been less than an hour since the show ended. I'd guess only about 100 or so people were there and everyone was polite for the most part, only a couple people seemed to follow the Idols down the line and push ahead. Everyone I was around let me take turns getting in to get an autograph or photo since I was standing behind them. Brooke said we were the most behaved crowd and that the crowd in San Diego was insane. There was another loud shriek as someone screamed "Its David Archuleta!" but actually was a false alarm as it was just a similar looking kid who was inside the security line.
A little bit later someone announced David Cook joined the line and my heart started to pound. I had to think of something intelligent to say but I knew at that point the Idols were moving too fast to have an sort of lengthy conversation. David passed through sooner than later telling everyone he was only going to do autographs first to make sure he got to everyone and then would come back through the line for pictures because they only had an hour left before they were scheduled to leave. I handed him my program and then managed to get out the request for him to come to Denver on tour sometime because I'd traveled there for him. He said he's make it a point to come to Denver but not on this tour. All I could say was "awesome" but was thrilled to talk to him even for a little bit. I have to add my thoughts that David is more than gorgeous in person and has a very warm presence and personality. After a little bit David came back through the line and I got my photo with him. I tried to think of something intelligent to say but could only come up with that it was so great to meet him. David said it was his pleasure and called me darling. I think I melted right there just a little bit. And then the whole David experience was over. I wished I'd categorized everything in my mind but only really noticed his face, hat, and shirt with the bling. Darn me for not having a photographic memory! It was all over much too fast but I'm not sure if any amount of time would have been long enough.
My video of the concert:
Finally Seyesha, Ramiele and Chikezie came through the line and David Archuleta was one of the last people to come out. David had his dad with him who was directing him a little bit. Nobody who was around me was able to get any pictures or autographs but it was great to see him because he is very adorable in person. It was so nice to end the evening with a little personal encounter with all the Idols. Although I would have been happy from just the concert it was great to personalize the experience and really get a sense for who they all are. I can say they were all nice and accommodating to their fans. Everyone looked great in person, especially all the ladies who looked even better than on TV. All in all everything was a truly memorable experience.